Finally, we had the great honour of welcoming Ernest Loosen of Dr Loosen to Loki for a tasting of his wonderful Rieslings.  It was clear from the off, that this was to be a very special tasting; Ernie's passion for wine was obvious and he clearly loves experimenting with his wines in his quest to bring out the very best from his vineyards.
We kicked off with the Villa Wolf dry Riesling, an estate owned by Ernst, which showed clearly the riper style of wines produced in the southerly Pfalz region of Germany. Given its modest £9.99 price point, this wine really shows the amazing value German wines can offer. Following this, we got our palates around the Loosen Red Slate Riesling from the Mosel Valley, which was more floral and delicate on the nose with a more linear and tauter texture than the Villa Wolf wine.
Up next, two stunning wines both of Grosse Gewachs level (equivalent to Grand Cru in France). Firstly came the Graacher Himmelreicht 2014 – a celebrated vineyard the name of which translates as 'Kingdom of God'. This displayed real refinement, bone dry and very precise with bracing acidity and a very long finish.  This was followed by another stunning dry wine, the Wehlener Sonnenuhr GG 2013. This clearly demonstrated the effect vineyard site and exposure can make to a wine. This beautiful vineyard is a natural amphitheater which captures the sun all day long resulting in super ripe fruit in the glass. Our group clearly enjoyed this wine and it seemed to be the favourite of the two.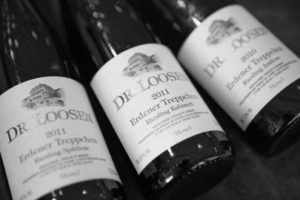 We finished with a duo of sweeter wines: Erdner Treppchen Kabinett 2015, and Wehlener Sonnenuhr Spätlese 2014. The more interesting of the two for me was the Spätlese, but the comparison showed the different styles of wine a single vineyard can produce when you pick the grapes at different times and tweak the winemaking slightly. This proved a real treat and a perfect way to end a memorable tasting.
With all those who chose not to kick the booze for January duly rewarded, we look forward to a busy tasting year ahead with wine makers far and wide heading to Loki to share their wines, stories and passion.